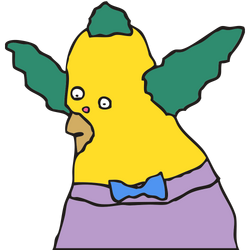 Krusti Clawn is an karaktur in Dolan Studios shortfilms & komics. He wurks as clawn (no sh!t). First solo apperance in "Krusti goes to jail" folod by 5-parte lifehack series called "Krustis advices". Hes mostly seen wth Nod und Homru Sempson, but also wiht Spengerbab, Dolan and othres.
Facts
- March 22, 2015, won Dosni Studio Character award "funiest karakter on teh show" spesal prajs.
- Has performed an sukessful escaipe from jael
- In summar 2015 survived voice change when Finnish company Bitlips dicuntinued providing voises which were used by several karuktars inkludeng Gooby , Nod & Dolan . Lattor in his interveiw wthi Bogs , he stated, that his old vois wus because of drug use, butt then got screwed by one of his drugdelares.
- Gat blawjeb frum his mom
- Hates faggets
- His both perents was clawns
- Enters rooms from teh roofs and walls, akkording to him in itnerveiw with Bogs, its just funier than using doores
- Sumtiems appearaes in series as polises cops
- Loves to raep Nod Flendres
- Trets women badli
- Have majd 2 utube gajms
Notable quotes
- "Dont throw benis in glashaouse"
- "Nod sad ur moms a fagget lal"
Catchphrase
"Krusti Clawn"